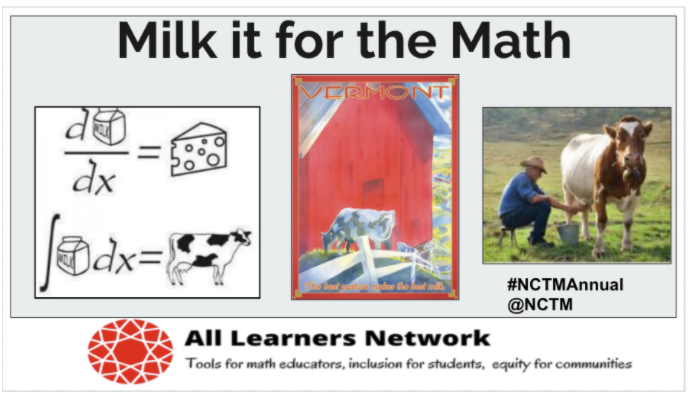 "Milk it for the Math"
This year we are happy to support one of our All Learners Facilitators, TJ Jemison, to present at the NCTM virtual annual conference happening April 21-24, and April 28- May 1. Register here. This presentation will be a live event happening at 7:30 pm on Wednesday, April 28th. There will also be a live roundtable discussion immediately following the 1 hour presentation.
"Milk it for the Math" by TJ Jemison, ALN Communications Director and Facilitator
I was sitting in a workshop at a regional math conference in a session that was talking about great activities using visual images to engage learners and someone said "you need to milk it for the math" referencing the task that was very engaging.
This phrase stuck in my head. It made me think about how we can get so much more out of less. The phrase kept coming back to me again and again as I learned new strategies and saw old ones through new eyes. I compiled a list of 5 things to do to get the most out of one rich task.
This idea helps both teachers AND students. Teachers have less to plan (and less to keep track of, correct, etc…) and students can keep their focus on one high level task- going deep into it. Too many programs and curriculums have so many tasks (which can be great and overwhelming) and often teachers are challenged with trying to fit in all of the different learning opportunities.
Milk it for the Math is focused on helping teachers take one high quality task and anticipate and plan for going deep into the task with students whether it be a Launch/Number Sense Routine, a Main Lesson task, or a Menu item in a math workshop model. Doing more with less is the antidote to overwhelmed teachers and students who are not engaged in math.