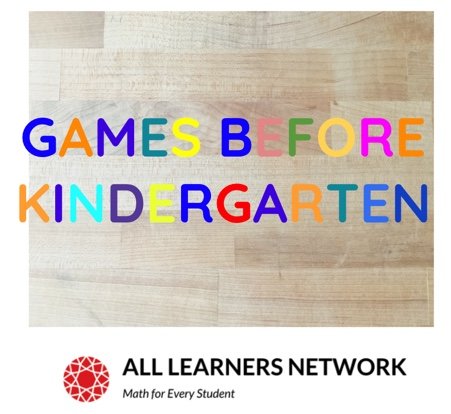 GBK: Games Before Kindergarten
In the summer of 2021 John mentioned hosting a game night at our new ALN Learning Center. Glenn and Erica heard this and thought even bigger - not just a single game night, but a preschool focus on games as a way to help develop early numeracy skills.
There is a predominant focus on early literacy and the importance of reading to young children at home. There are numerous preschool community programs focused on books and early literacy. We know math needs the same attention. Libraries offer super preschool programs for developing foundational literacy skills, pediatricians provide books and ideas to support development of children and literacy skills, and numerous organizations provide books to early learners. All Learners Network became committed to providing these same rich opportunities to build and support children's natural curiosity of numbers through conversations, everyday experiences and games! Our Games Before Kindergarten (GBK) Project had begun.
Lilly, Allison and DeVeau joined the GBK Project to make this a reality. Combining passion, resources and excitement the trio spent a day together organizing the group's ideas and developing a packet of fun family friendly resources, ideas and games. Many of these resources are things families probably already do, but don't necessarily know how important and awesome it is that they are doing them with their children. Families may find new ideas, new questions, or new ways to pass idle time in lines or in the car, that can provide additional opportunities to recognize and explore math in the world around us. Games are an essential element of the project, as games are an important way to strengthen, develop and refine number sense. Games are fun! Bonding over math is a wonderful way to spend time with our youngest learners.
You can hear more about it on the ALN podcast. If you would like to collaborate with All Learners to offer a GBK night event in your community, school, or district, reach out!