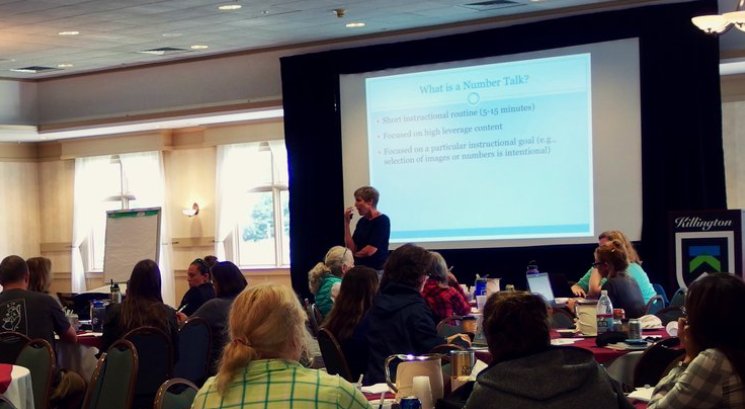 Reflections on the All Learners Conference
If you build it, they will come. And come, they did.
We were hoping to attract 100 "math people" to Killington in September 2018. In all, 228 people attending the Math for All conference. It was an outstanding turnout to support the important work of helping every student to be successful with essential mathematics. There were many helpful suggestions for future work. Most people had an overwhelming positive experience:
"I thoroughly enjoyed the whole day from beginning to end. It is always nice to get together with colleagues from other schools/districts. On a side note: lunch was fabulous, too."
"I was very engaged in all sessions and learned a lot. I was honestly pleasantly surprised by how much I took away from this!"
"I look forward to working with the All Learners Network! Excellent conference. A huge thank you to the AOE for funding the event."
Here are some things I think we learned from the conference:
We might need to do a session in the Northern and the Southern Vermont.
While we had a great turnout from the southern part of the state. We had far fewer from up north. This meant our recruiting was much better south of Rutland.
We need to do something (in a workshop) around Main Lesson.
There was an abundance of information around Menu and Launch (through Number Talks) but less about how to design inclusive experiences during the Main Lesson. This is something we'll consider in the future.
People appreciate information from the leadership perspective.
We knew there would be a few leaders who would want to know more about the "bigger picture". Responses to workshops from Linda Keating, Jill Cohen, and I lead us to believe that we need to pay attention to keeping leaders engaged productively.
There is passion and commitment to serve all learners in Vermont.
One of the big take-aways for me was how eager participants were to access more knowledge and resources to augment their ability to guide and support students to be successful. The energy participants brought to the conference was amazing. I think this will help us learn much more in the coming year.
It was a wonderful day of conversations – and just the beginning. Please stay connected to our blog as we're regularly putting up new information.
We'll let everyone know when we've booked a date for the Specialized Instruction day in November. This will be a series of workshops designed specifically for Special Educators and interventionists. We'll look at Clinical Interviews, Collaborative Study, Inclusive Practices for Main Lesson, Push-in During Menu and Addressing Specific Learning Challenges like working memory and attention deficit. Please let your special education folks and interventionists know that it's coming and keep checking out our website!